I was joined on my recent trip to South Sudan by a 3 man team from Dallas/Fort Worth who spent our week in Boma raising a water tower. This tower is the beginning of Phase 1 in developing a major water project to produce more clean water for the community. Clean water is rarely accessible in many areas of Africa and this is particularly true in South Sudan. Many of the health issues plaguing the South Sudanese could be resolved by simply providing sources of clean water. We are so grateful for these volunteers who sacrificed and pushed through the challenges of operating in Boma in order to bless this community.
Tracy and Sam (tower technician) are putting the final touches on the platform for the water tanks.
Clean Water
Our goal for this project is to increase current water flow enough to allow the installation of several taps outside the compound for local villagers to use. Additionally, this project will provide enough water for
farm irrigation
as well as the restrooms, showers and kitchen inside the SEA Partners compound. This clean water project is unlike any other in the Boma region and has the potential to provide accessible and abundant clean water to thousands.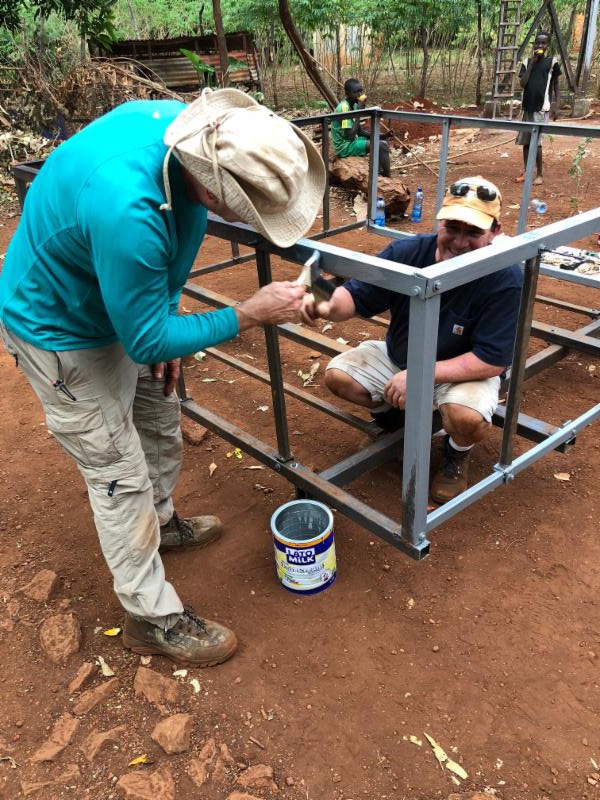 Tracy and John Burch painting the platform prior to raising it to the top of the tower.
John Weymer, John Burch, and Tracy Smith provided much of the labor and expertise in raising the water tower. They worked tirelessly amidst some very challenging circumstances. As you can imagine, there is no Home Depot nearby to pick up a needed part or additional supplies, so these men were forced to overcome obstacles with good old-fashioned ingenuity.
Not only was this a benefit to the villagers of Boma, but it also impacted the volunteers from Texas. Tracy may have said it best:
The trip was a huge success. The tower has been built and is now ready to have a proper water tank installed to provide enough pressure for irrigation and to lessen the burden of water gathering by the women of Upper Boma.  What I did not expect was what I received back.  Obviously, I have made new friends – however, I also received a much greater gift which can very simply be described as perspective. We all lead busy lives filled with the trappings of success where we take for granted basic needs that our friends in Boma must struggle to obtain every day – clean water, nourishing food and secure living quarters.  The four of us on this trip are all very fortunate and now have a greater sense of obligation to share both our knowledge and resources with others. God loves us all and he expects us to love one another.
John Weymer, a long time SEA Partners' board member joined the team and made several comments about his time in Boma.
It had been 5 years (and 2 tribal conflicts) since my last trip to Boma.  While other NGO's stayed away, SEA Partners has stood by the people of Boma through thick and thin.  Highlights of the trip for me were 1) a full house for Sunday church service, 2) daily school attendance of 150 students and growing, 3) meeting our new teachers John and Jennifer and reconnecting with Vincent and Peter – a most impressive staff! and 4) experiencing Boma through the eyes of first time visitors John B and Tracy and seeing the tremendous impact they had on the kids and the fruits of their labors on the water tower and around the compound.
John Weymer moved up and down the tower with ease as he fitted the supports on the side of the tower.
John Burch expressed his insight into the Boma Project.

Getting to travel to Africa was an amazing opportunity.  Boma is such a beautiful place with beautiful people.  I loved being around all the kids and watching them play soccer… although, it was sad seeing them with only mangos to eat for every meal and wearing the same tattered clothes each day.  It makes me realize just how blessed we truly are. We have so many things we take for granted.  More importantly, it raises the question of what I will do and what I will be willing to give up to help people on the other side of the world. While these people are less fortunate materially, God loves them and sent Christ to die for them just as He did for me.  Part of my heart stayed in Boma and I will return as soon as possible.
As you can see, volunteering in Boma is having a lasting impact on the lives of the local people. It also has made an impact on the volunteers who go to serve the Lord. If you are interested in going on a
mission trip
to Boma, please let me know by responding to this email. Thank you for your prayers and support of this ministry.
On a Separate Note
Finally, I want to specifically thank Rob Cattalani for his many years serving on the board of SEA Partners. Rob was a founding board member who resigned this past week. He is the pastor of Browncroft Community Church in Rochester, New York and they are involved in some exciting new ministries in South America and West Africa that will demand much of his attention over the next few years. Rob has become a good friend and a wise counselor and we will miss him very much. We pray that God would continue to use him in a mighty way. Thank you Pastor Rob!
Donnie Brake, Ed.D.
President
PS. If you feel led to give a gift to provide clean water to the people of South Sudan, please follow this link to easily give online. Thank you.