On March 9th, SEA Partners joined AIM Air in celebrating the addition of a new Caravan airplane to their East African fleet. AIM Air has been an integral part of our work in Boma and we are so excited to see God's provision of this new plane.
Donnie Brake, Nate Killoren (AIM AIR/SIM Missionary/Pilot) and John Weymer (SEAP Board Member.
I was given the opportunity to speak at the dedication of this plane in Dallas, TX and shared with their donors the impact AIM AIR has on our ministry. It was my suggestion that without AIM AIR's partnership, SEA Partners would not have been able to return so quickly to Boma after the conflict of 2103. I have flown with AIM AIR many times and have seen firsthand their commitment to local ministries. One quick story…..on my last trip to Boma in January, AIM AIR brought some supplies into Lower Boma for our staff. The pilot, Jerry, needed to get back to his home base before dark because the small 206 planes do not fly after dark. A local government officer came excitedly to the airport and pleaded with Jerry to take some much needed medical supplies to a nearby village. Jerry looked at his watch and said "OK, let's go". I am sure he would have preferred to go directly home, but he chose to serve the people of South Sudan in lieu of his own convenience and comfort.
 It was an honor to address the AIM AIR donors and to explain their role in helping our ministry.
The staff and pilots of AIM AIR are amazing partners and have an intense desire to serve other Christian ministries. Galatians 5:10 says, "So then, as we have the opportunity, let us do good to everyone, especially to those who are the household of faith". AIM Air is the perfect example of a group who "do good to those of the household of faith".
Gordon (right) and his associate, Victor (Center) are developing a leadership training program for the Kachipo people.
Featured Missionary in East Africa
In January, I was fortunate to meet Gordon Sawatzky. Gordon and his wife Carol have been AIM AIR missionaries for over 30 years. Gordon was a pilot for 12 years flying missions throughout East Africa and now is working to develop indigenous Christian leaders.  In recent years, Gordon has been invited to serve with MANI (Movement for African National Initiatives) as God is birthing African missionary initiatives as the western long term missionary force continues to decline.  His commitment to this project became evident to me during my last visit to Boma (where I struggled to walk the 8 miles up the Boma mountain), when Gordon and his team not only walked up the mountain to our compound, but another 30 miles to the Kachipo village of Meune. Seriously, these men of God walked 38 miles in order to talk with local Christian leaders regarding development of a leadership training program and then two days later, walked the 38 miles back to Lower Boma. It was an amazing privilege to witness these courageous champions for Christ!
If you feel led to support Gordon in his work, please click on this link to give an online gift. He and his wife have faithfully served the Lord for many years and would appreciate your help.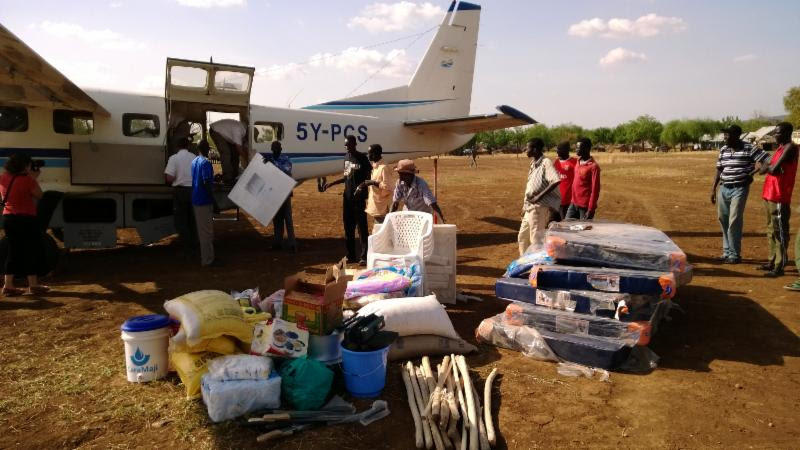 Final Thoughts
It is foolish to even think that SEA Partners could do the work in Boma alone. AIM AIR has been instrumental in helping us fulfill our mission and God has blessed us through their dedicated service. I ask that you consider supporting AIM AIR; not only would they appreciate your financial support, but many of them have left families at home in the US or Canada to serve our Lord Jesus Christ and would be grateful for your prayers on their behalf. We are all members of the body of Christ and this is one way we can serve the body as a whole. Please consider supporting AIM AIR in their ministries.
God bless you all.
Donnie Brake
President
PS. Please continue praying for our missionaries in Boma as they are Africans who are serving their fellow African brothers and sisters. To financially support them, give an online gift today.