Thank you for all your prayers and support. I returned last month from South Sudan with a renewed excitement for what God has done in Boma this past year and great anticipation for what He will continue doing through you and SEA Partners in the year ahead. Here is our 2017 in Review and Strategy for 2018.
As 2017 comes to a close, we remain humbly dependent on and grateful for your support and for God's blessing. As a result of both, we have experienced tremendous growth and encouragement this year and I wanted to share with you just a few of the accomplishments.
Mary sharing about forgiveness in church.
Planting Avocado trees in the midst of the corn keeps the direct sunlight from doing damage to the fruit trees.
Strategy for 2018
SEA Partners' African Director, Henry Okumu, and I spent the second week of November in Juba developing our strategy and plans for 2018. We recognize and understand the promise from Proverbs 19:21, "Many are the plans in a person's heart, but it is the LORD's purpose that prevails." With this scripture in mind, we would like to share with you what we believe the Lord has given us as a strategy for Boma in 2018. If these plans are indeed from God, they will succeed as we are obedient in doing our part.
We hope to plant an additional 1000 fruit trees in Boma. While these fruit trees alone will not provide all the nutrition needed for the families in Boma, they will become an ongoing source of food while providing opportunities for farmers to generate income for the community through selling surplus produce.
In two years we hope to have a large amount of avocados to eat in Boma.
We hope to plant 30,000 eucalyptus trees in Boma to be resold for construction poles in Juba or other South Sudanese markets by the year 2022. In driving around Juba last week, Henry and I saw no eucalyptus construction poles; instead, construction firms were using much more expensive metal poles. After talking with several people, the reason for using metal is there are no wood poles available in Juba. Most of our contacts believe vendors in Juba will come to Boma and buy all the poles we can produce. Just to provide some context, a construction pole will sell for $20 to $30 each. Therefore, by planting 30,000 eucalyptus trees in 2018, we could be looking at generating enough revenue to fund the project in Boma for many years to come. The best news about planting eucalyptus trees is that after harvesting they grow back. Yes, and from the stump of each tree cut down, three more grow back in its place. So, three years after harvesting we will likely have three times the number of poles to sell. Amazing!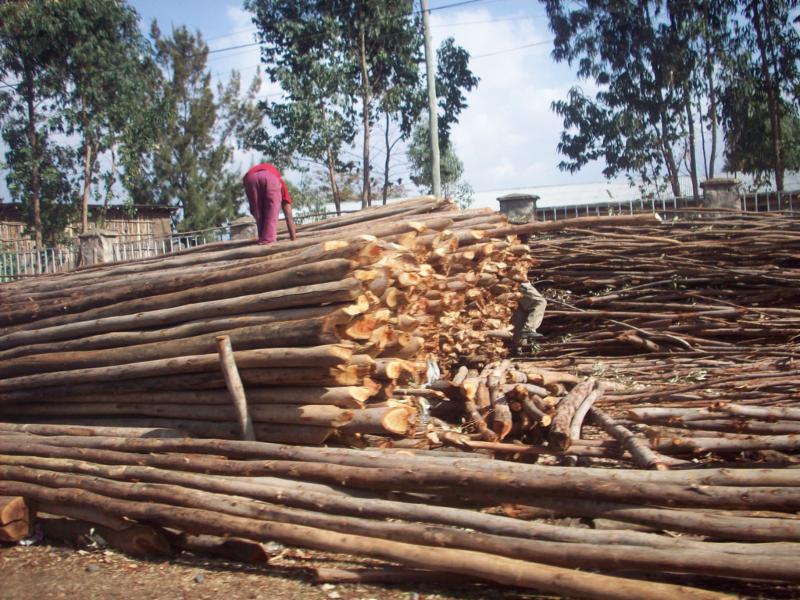 In three years, eucalyptus trees can be this size and sold in Juba for construction at a handsome profit.
Finally, we hope to increase the opportunities for training our students in Boma by adding satellite internet to our program. We've been trying to provide this for several years now, but have not been able to find the funding. Through careful supervision, we would like to offer our students a broader education through the many quality programs available on the internet.
Our Needs
The price tag on installing satellite internet in Boma is $8,000 with an ongoing monthly internet usage fee of $400.
Both of these projects are in addition to our continued funding needs to operate the school, train farmers and develop church leaders for the congregation in Boma.  This is a huge undertaking and can only be accomplished as we proceed with a sense of God's favor guiding our efforts.
Therefore, we will leave this strategy and our plans in His hands. If you feel led to give to any of these projects, please make an online donation. We would also ask that you pray for us. Pray that God would continue to give direction as we seek to honor Him in our commitment to serve the people of Boma, South Sudan.
May God continue to bless you as you serve Him.
Donnie Brake
President
PS.  The Apostle Paul tells us in II Corinthians 9:12 that our gifts not only help the recipients, but they bring more honor and glory to God. Please give a gift to improve the lives of those in  South Sudan and to bring glory to our Lord and Savior Jesus Christ.